Artful elegance
Reminiscent of beautiful Florentine frescoes, the season's Italian fashions have been styled from a painterly palette. Together they create an arresting tableau of relaxed tailored-clothing ensembles that masterfully convey the country's ever-enviable sartorial chic.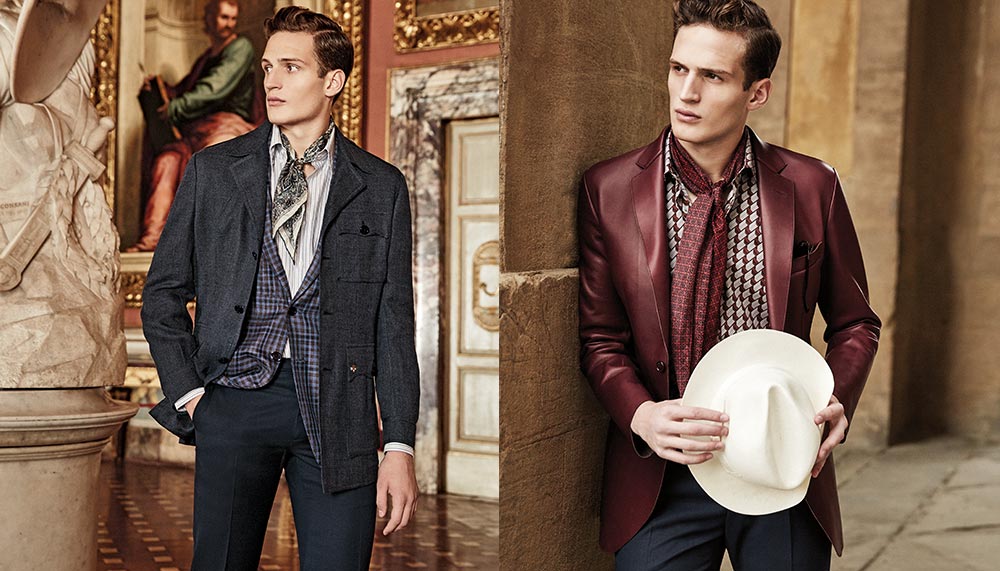 LEFT
Stefano Ricci safari jacket in silk, linen, and cotton, jacket in cashmere, silk, and linen with leather details, cotton-and-linen sport shirt, and wool trousers; Ermenegildo Zegna Couture silk scarf.
RIGHT
Pal Zileri lambskin leather jacket, and cotton shirt; Tod's knit trousers, and sunglasses; Caruso cotton-and-silk scarf; Borsalino woven straw hat.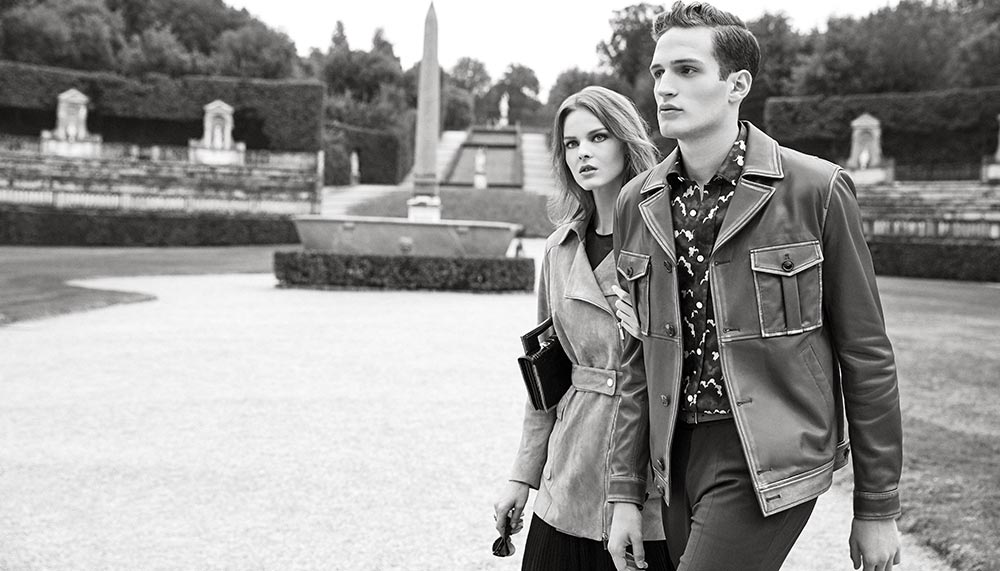 ON HIM: Tod's leather jacket cotton shirt, knit trousers and suede belt.
ON HER: Kiton suede jacket; Salvatore Ferragamo woven silk top skirt, and alligator handbag; Tod's sunglasses.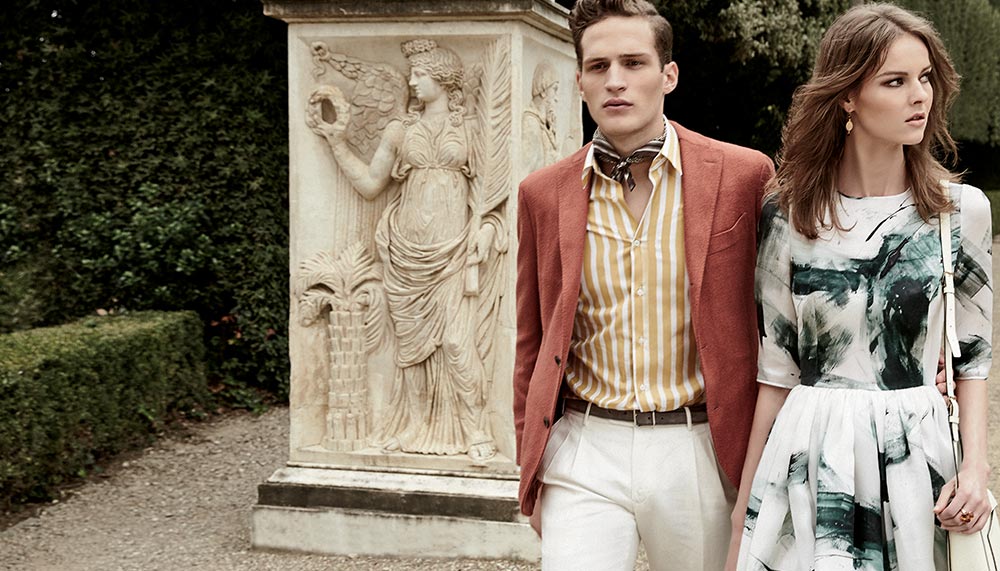 ON HIM: Boglioli silk jacket, wool-and-mohair trousers, and cotton shirt, Giorgio Armani belt, Caruso cotton scarf.
ON HER: Dolce & Gabbana silk dress and brass earrings; Valextra leather shoulder bag; Pomellato Madeira rose-gold ring with quartzes and sapphires.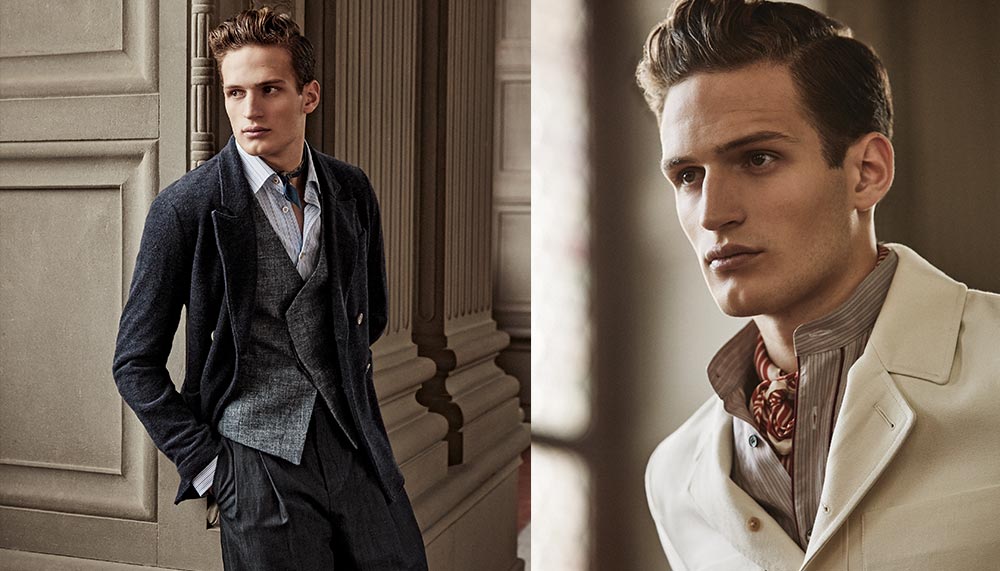 LEFT
Giorgio Armani cotton-blend jacket, linen-twill vest, cotton shirt, and wool-and-linen pants; Kiton silk scarf.
RIGHT
Caruso cotton jacket, silk shirt, and silk scarf.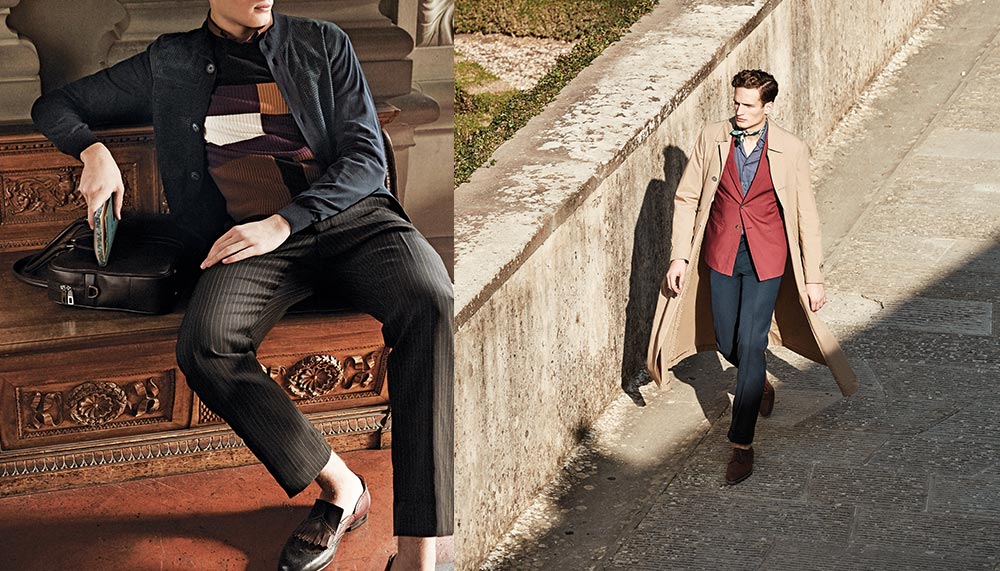 LEFT
Salvatore Ferragamo wool sweater, wool trousers and cotton shirt; Paul & Shark perforated suede jacket with cotton sleeves; Santoni calfskin shoes; Tod's leather briefcase.
RIGHT
Corneliani cotton trench coat, jacket, shirt, and trousers; Fratelli Rossetti woven leather shoes; Kiton silk scarf.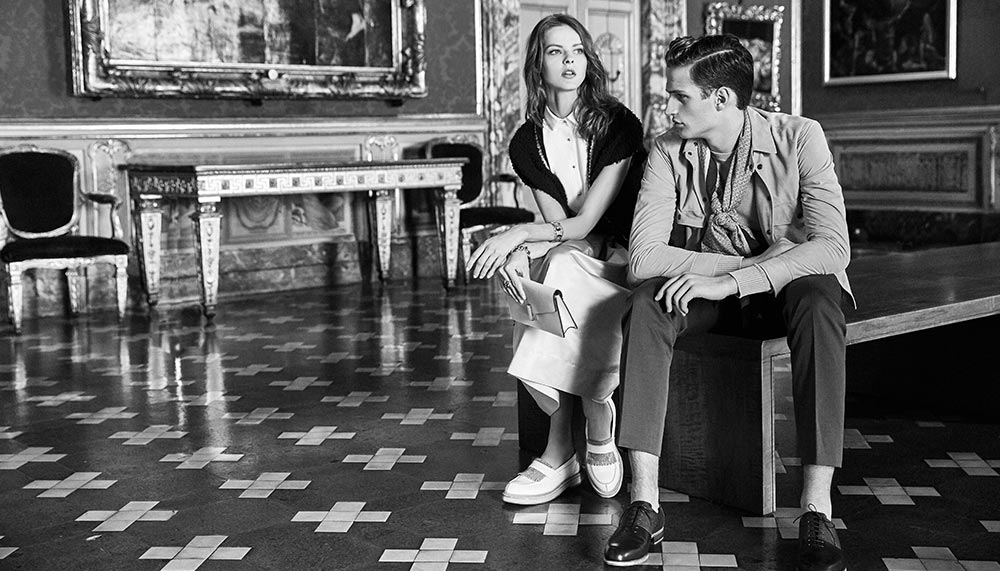 ON HER: Brunello Cucinelli silk tuxedo dress, cotton cardigan and fringe loafer; Valextra leather clutch; Pomellato rose-gold bracelets with brown diamonds, and rose-gold ring with Madeira quartzes and sapphires.
ON HIM: Bottega Veneta suede jacket and cotton sweater; Stefano Ricci wool trousers and cashmere scarf, prices upon request; A. Testoni lace-up shoes.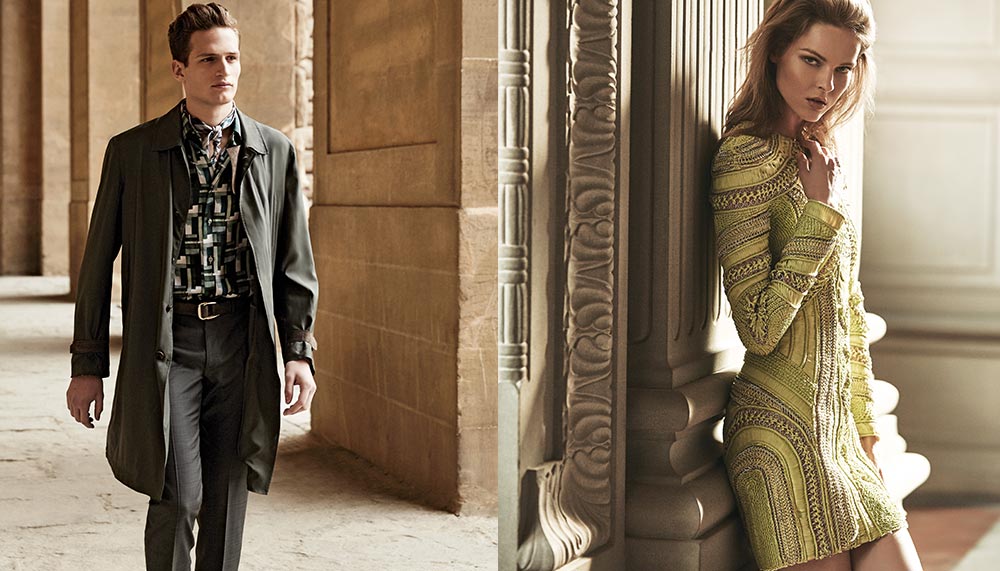 LEFT
Brioni wool coat, silk shirt, wool trousers, suede belt, and silk scarf.
RIGHT
Dsquared2 embroidered cotton dress.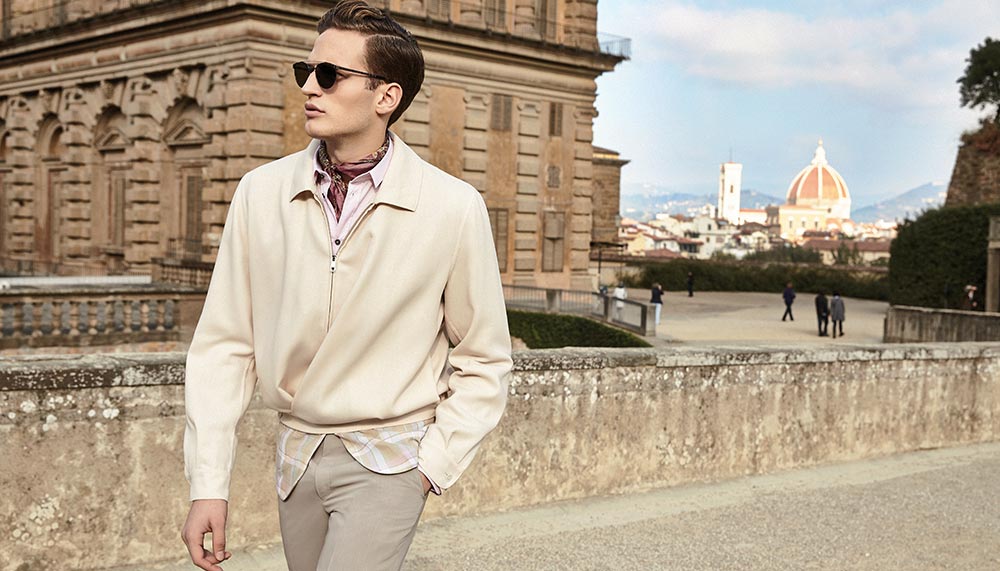 Ermenegildo Zegna Couture wool blouson jacket, madras cotton jacket, cotton knit shirt, wool trousers, silk scarf and sunglasses
Styling: Peter Cardona
Hair Stylist: Astor Hoxha, Close Up Milano
Makeup Artist: Katja Wilhelmus, Close Up Milano
Male Model: Kimi Alili, Why Not Model Management
Female Model: Vita Silkaityte, Women Direct
Videographer: Alessandro Zorio
Digital Technician: Luca Truchet
Photographer's Assistants: Oscar Masi and Gaia Geneston
Stylist's Assistant: Martina Verità
Shot on location at Florence, Palazzo Pitti's Galleria Palatina
---