Rise and shine
For those who are impressed by the finer items in life – think good caviar and seriously aged Cognac – and don't mind shelling out for them, there is a new dish in New York City to try. Petrossian's "Secret Soufflé" – so called because it's an off-menu item – is a sizeable soufflé containing about 30 grams of Royal Reserve Ossetra caviar and quail eggs in the centre, and topped with a mosaic of gold leaf.
The dish is ferried to your table covered by a glass cloche to contain the applewood smoke in which it's been marinating since leaving the oven minutes earlier. A bottle of Richard Hennessy that includes in its blend some spirit dating back to Napoleon's time, is brought out on its own rolling trolley; about 2 ounces of the precious booze are flambéed in a saucepan and, while still aflame, poured over the decloched soufflé at your place setting.
Sure, it's all a little over the top. But if you're the type to order something like this, you likely don't do restraint. The dish's flavours, too, are similarly intemperate. Depending on the particular bite, the flavour of the Cognac – intense to begin with, given its age, and further concentrated by the flambéing – often dominates but occasionally cedes the spotlight to the caviar's brininess. The applewood smoke, barely perceptible at first, then lingers in the mouths for hours afterward, even through multiple cups of coffee.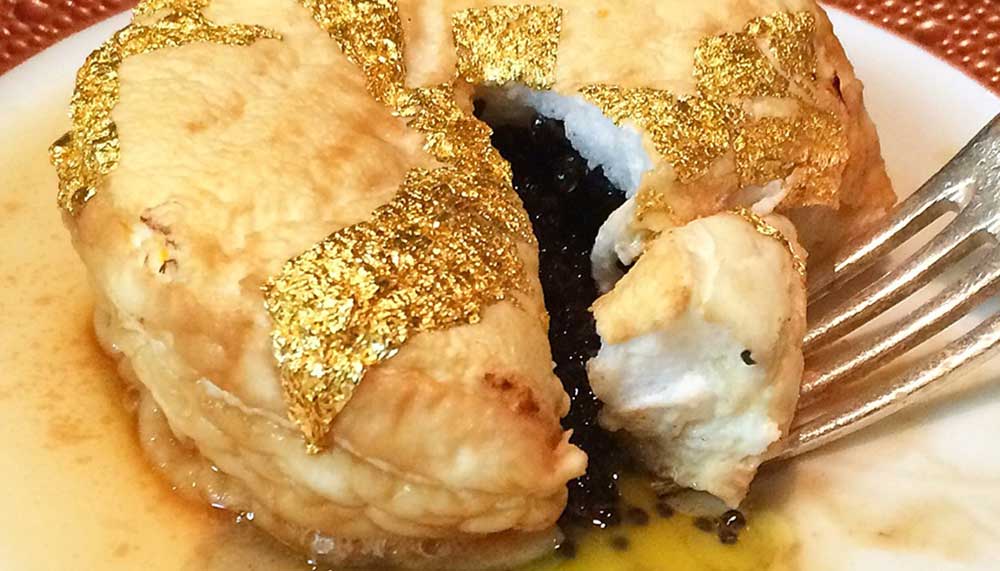 Chef Richard Farnabe, Petrossian's executive chef and the soufflé's creator, admits it is a dish that exists simply because it can. It's a tribute to 1980s-style excess, to the gilded glory days of when the restaurant was new. Farnabe was encouraged to experiment with no thought to cost, to use the most premium ingredients in as great quantities as he wanted. This was the result.
---